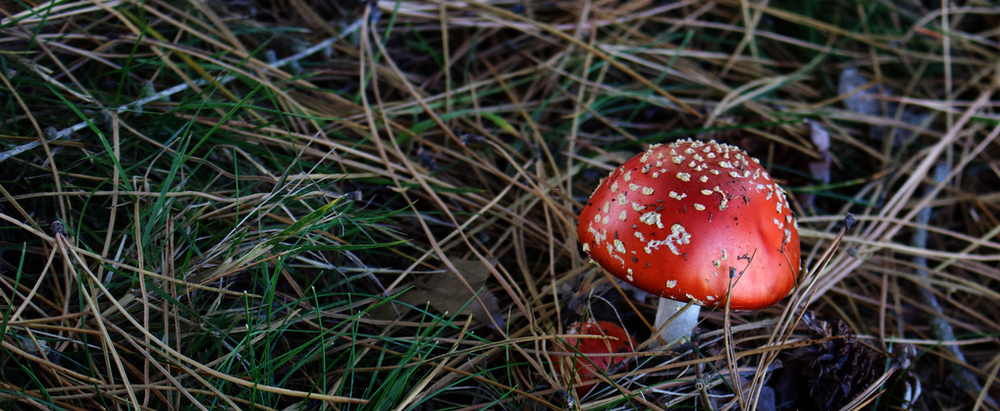 Tuesday, August 15, 2023
Hello friends,
It was a busy week seed sowing for Spring. I like to sow a mix of vegetable, herb, and flower seeds each week, so no individual job is too big at any one time.
Vegetable Seed Sowing this week:
Pearl Drop Onions (for pickling)
Italian Long Keeper Onions
Pukekohe Long Keeper Onions
Long White Spring Onions
Santana Spinach
Space Saver F1 Cabbage
Summer Sprouting Purple Broccoli
Coastline Lettuce
Drunken Woman Fringed Lettuce
Rocket
Herb Seed Sowing this week:
Gigante Italian Parsley
Celery for Cutting
Soapwort
Flower Seed Sowing this week:
Alyssum Painters Palette
Alyssum Carpet of Snow
Pansy Imperial Antique Shads
Pansy Purple Lace
Viola Clear Colour Mix
Viola Frizzle Swizzle
Viola Imperial Antique Shades
Calendula Dwarf Colours Mixed
Calendula Nova (herbal variety)
Snapdragon Potomac Lavender
Statice Apricot
Night Scented Stock
Spring Sparkle Stock
Allium Purple Sensation
Allium Showy Persian Onion
I have super easy way of seed sowing annual flowers, a cheat way really. I have a lot of self seeded annual plants in my flower garden beds, and I keep an eye out in late winter to see when plants like calendula, pansies, and alyssum start germinating. Once I see that the ground is warm enough for that to happen, it's time to sow annual seeds.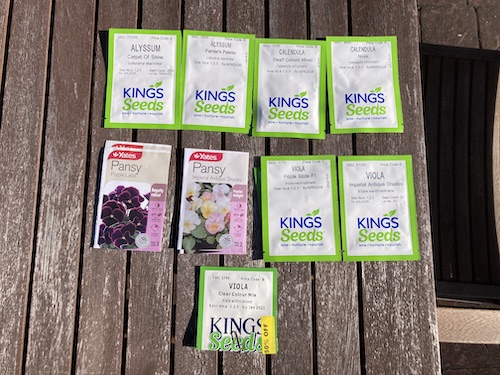 I gather all my annual seeds, and start opening all the packets. Here is where the lazy part is, I dump all the seeds into one container. And once all the seeds are mixed in all together I go out into the garden and start sprinkling seeds around where I want my annual plants to grow.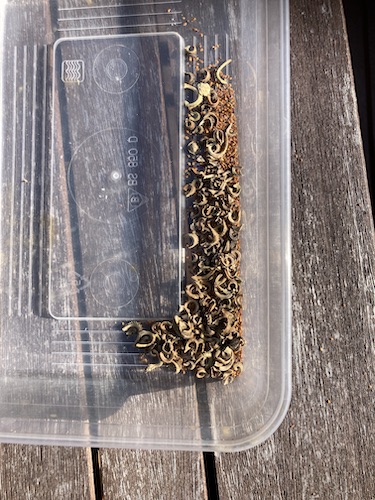 Within a couple of weeks all the annual seeds start germinating, and since I know what the seedlings all look like, I know not to weed them out of the ground. It may be lazy, but it saves me heaps of time in not having to sow each seed out by hand. I also like the wild, non structured feel of where the plants grow, as compared to all my other plants in the garden.
I have also just popped all my poppy seeds into the fridge to vernalise for two weeks. After that I will sow those seeds in a similar manner. I already have poppy plants that have self seeded into the garden as well, but I wanted to add even more coloured varieties this year.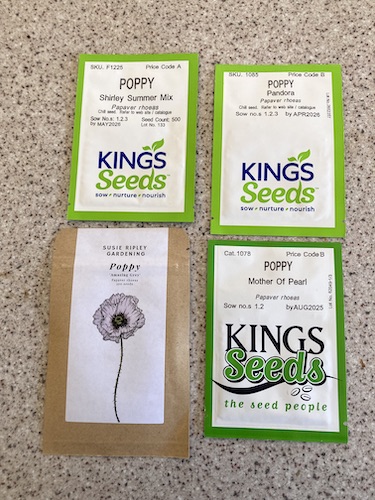 How is your seed sowing going? With sunrise coming at least a minute earlier every single day, I can just feel the coming of Spring deep within my bones. The sky is no longer dark when I wake up in the morning, and I look forward to seeing the sun pop over the hills as I make breakfast each morning.

Have a wonderful day
Julie-Ann
Want to discuss my post? Feel free to chat with me on Instagram or Mastodon.