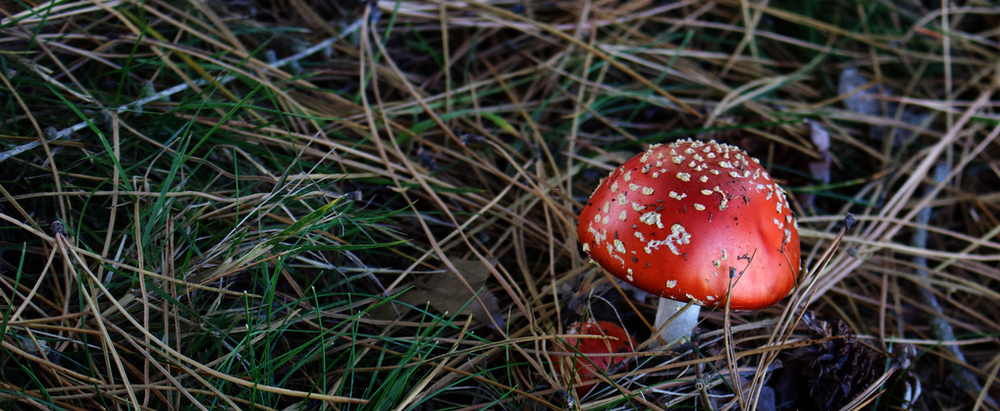 Thursday, March 2, 2023
Hello friends,
Happy Autumn to those of you living in the Southern Hemisphere. It's been a long and hot summer here in Dunedin, but over the last few weeks the sunlight has been dimming little by little, and the neighborhood deciduous trees have ever so slowly begun changing color. We have a big Japanese maple tree in our backyard, and the edges of some of the leaves have already started turning red.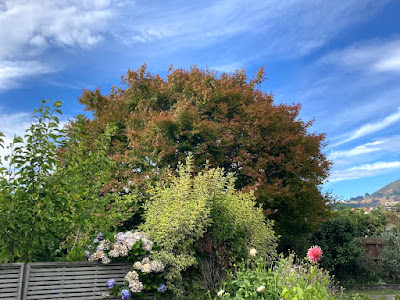 At this time of the year I start to ponder the wonderfulness of autumn. I think of beautiful falling leaves, bright orange pumpkins, cool rainy days, the first hot chocolate of the season, and warm knitted things. And when it comes to thinking of knitting, my thoughts always settle on the unfinished blanket stored in my craft room.

Back in September 2021 I'd just finished knitting a thick woolen jersey, and wanted to knit something a little easier, a blanket that would keep me cozy and warm over the autumn and winter seasons to come. Down here in Dunedin where we live, we usually get around 40 frost days, and usually if we're lucky, a couple of snow days as well. And when we don't have frosts or snow in autumn and winter, it is pretty much always just cold.

I've always admired Fifty Four Ten Studio's blankets on Instagram, and so after perusing their website, I chose their The Days to Come Blanket. I love the simplicity of its modern geometric design, and the fact that the blanket would be double-sided, and the pattern was simple enough that I wouldn't need to refer to the pattern as I knitted it in front of the TV.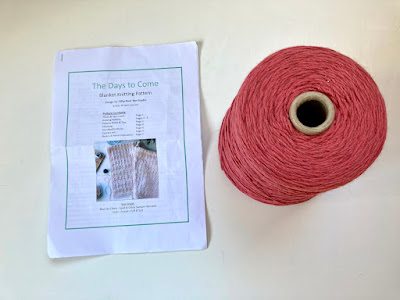 The pattern calls for an aran/worsted weight yarn, but I had on hand a 3 kg cone of double knit salmon pink possum/merino yarn from a Woolyarns sale. After knitting a test swatch with a slightly smaller needle to account for the yarn (yes, you should always knit a test swatch, and wash it afterward too), I was ready to make a start on knitting my blanket.
I, of course, chose the largest size version of the blanket, which was an XXL measuring 46.5" wide by 54" long, because if you're going to knit a blanket to keep you warm, you should make it as big and cozy as possible. So therefore, I cast on 214 stitches...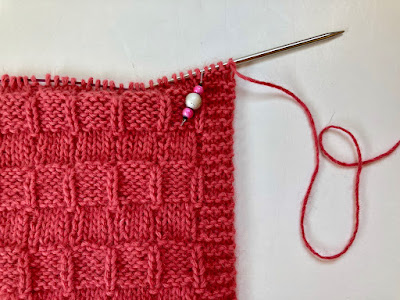 The bottom border was next, it was pretty easy knitting, as it was all plain stitches, but I noticed it was taking around 20 minutes a row, and once I got to the pattern itself, the realization dawned on me. Each pattern row was taking around half an hour to knit. The knitting itself was easy, but it was taking ages, every night I worked on it I could only manage a couple of rows...

So ever since September 2021 I've been slowly working on my The Days to Come Blanket. I've been knitting it more in Autumn, Winter, and Spring, and hardly ever in Summer. The possum/merino yarn is very warm and cozy, it's just too hot to work on the project in the middle of summer, especially now that it's big enough to sit on my lap while I'm knitting. And I only work on it for about an hour a night when I do pull it out of its project bag, so that's not helping either.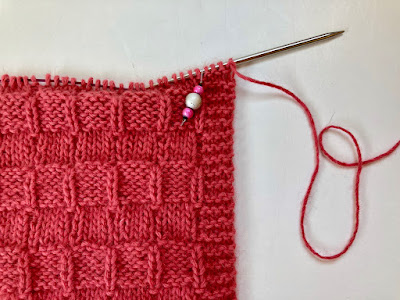 My blanket is currently measuring 44" wide by 29" long, which makes me just over halfway done, I need to knit around another 25". Once I get to the expected number of pattern repeats, I'll have a better idea of how much more I need to do to get the right size once the blanket will be blocked.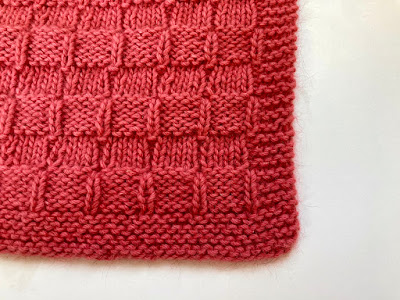 I mentioned recently to hubby that I hoped to get it finished by this winter, but that's only three months away. I have been pulling it out to knit every couple of days over the past month, but at only two rows a night, there hasn't been much progress.
In order to remedy this, I have now brought my Days To Come blanket knitting project downstairs, and my aim is to get at least an hour done each night while watching the Chase on TV. Hopefully this will mean I reach my goal before the first of June...

Have a wonderful day,
Julie-Ann

Want to discuss my post? Feel free to chat with me on Instagram or Mastodon.
Thursday, February 23, 2023
Hello friends,
I absolutely love reading, and have been a book lover and collector for most of my life. Some of my earliest memories as a child are of my mum taking me to a local library, or of us going into town for the day, just so I could pick up a copy of the latest book in whatever series I was currently obsessed with. And pretty much nothing has changed in the many years since then.

There is nothing better on a cold and rainy autumnal day, than to curl up with a cup of tea and a good book, and reading the afternoon away. But that all came to a jarring halt last year when I unfortunately had a run of very bad books I didn't want to finish. My reading bug flew away, never to be seen again, and instead I turned to reading numerous emagazines from the library, or wasting way too much time on Instagram...
My reading bug miraculously returned though, when I came across Alexandra Roselyn's BookTube channel. She is very much into the adult fantasy, cozy, and romance genres, along with middle-grade and YA books. The books that she loves and reads are very similar to my own tastes, and it wasn't very long at all (perhaps minutes) before I had a huge lists of books I wanted to read, especially in the Cozy Fantasy genre.

One of the books she suggested was the cozy fantasy novel, The Very Secret Society of Irregular Witches by Sangu Mandanna. She had me at the words witchy, cozy, fantasy, and romance.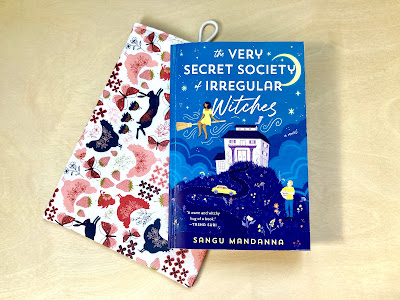 It was mere moments later that an e-version of the book was downloaded onto my iPad. And I devoured the novel in only a couple of days, loving every single second of it.
Here's the blurb for The Very Secret Society of Irregular Witches:
"A warm and uplifting novel about an isolated witch whose opportunity to embrace a quirky new family--and a new love--changes the course of her life.

As one of the few witches in Britain, Mika Moon knows she has to hide her magic, keep her head down, and stay away from other witches so their powers don't mingle and draw attention. And as an orphan who lost her parents at a young age and was raised by strangers, she's used to being alone and she follows the rules...with one exception: an online account, where she posts videos pretending to be a witch. She thinks no one will take it seriously.

But someone does. An unexpected message arrives, begging her to travel to the remote and mysterious Nowhere House to teach three young witches how to control their magic. It breaks all of the rules, but Mika goes anyway, and is immediately tangled up in the lives and secrets of not only her three charges, but also an absent archaeologist, a retired actor, two long-suffering caretakers, and...Jamie. The handsome and prickly librarian of Nowhere House would do anything to protect the children, and as far as he's concerned, a stranger like Mika is a threat. An irritatingly appealing threat.

As Mika begins to find her place at Nowhere House, the thought of belonging somewhere begins to feel like a real possibility. But magic isn't the only danger in the world, and when a threat comes knocking at their door, Mika will need to decide whether to risk everything to protect a found family she didn't know she was looking for..."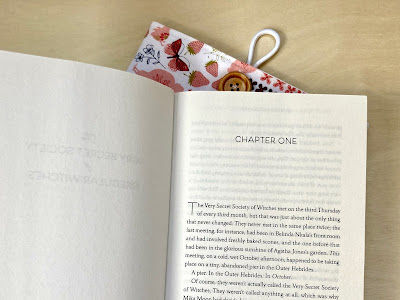 I loved the main character Mika Moon, a witch who was brought to Britain from India when she became an orphan shortly after her birth. She was adopted by another witch, but was raised by a number of strangers until she was an adult, and has been all alone for most of her life, apart from her much-loved companion, a super cute golden retriever called Circe. You can't help but feel for Mika, and admire her, as she struggles to live the lonely path of a solitary witch.

To banish her loneliness and connect with others, Mika runs a Youtube channel where she pretends to be a real "witch", and posts witchy content online to the masses. She is a ray of sunshine in the dark, and people are drawn to her, including an elderly man who claims to know who she really is–a real life witch. He begs for her help in teaching three young witches to control their magic, and she can't resist breaking the rules of her being a solitary witch, in order to help the young girls while living in a remote home in the English countryside.

Mika becomes tangled up in the lives of her three challenging, but delightful charges, their wonderfully quirky cast of caretakers, and the surly, yet hot Irish librarian called Jamie, who is the grumpiness to her sunshine. She finds him hard to resist. Many hi jinks occur as the book continues on, along with lots of witchy goodness, and both laughter and tears. As the story unfolds, and Mika finds her place, and her home at Nowhere cottage, she begins to believe that maybe, just maybe it might be possible to not be alone anymore. But life is complicated, and not just because of all the magic swirling around them. There are secrets to be uncovered, and not all of them are pleasant...
As much as I want to share more of the book with you, I don't want to spoil the story. But there are a number of great quotes in the novel, and this one is my favorite, and is said by Jamie, the hunky and grumpy Irish librarian to Mika:

"It's not always enough to go looking for the place we belong...Sometimes we need to make that place."
― Sangu Mandanna, The Very Secret Society of Irregular Witches.
This quote pretty much sums up the heart of the book, sometimes you have to make the place and family you belong to.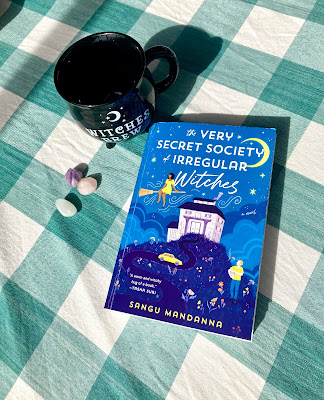 The Very Secret Society of Irregular Witches is everything you're hoping for in a book if you're after a cozy fantasy novel that is heartwarming and uplifting, and has a diverse and inclusive cast of quirky characters that you will adore. I really loved the found family trope, along with the magical witchy aspects. If you used to be a fan of the book series that can no longer be named, and have a magical shaped hole in your heart, this may be the book to soothe you. It has a very similar feel to the novel The House in the Cerulean Sea by TJ Klune, which I also adore. Comparing the book to movies, it definitely has Practical Magic and Kiki's Delivery Service vibes.

In terms of the romance plot, in general it is sweet. There is only one sex scene, and it isn't too explicit, it fits in perfect with the rest of the book, and doesn't distract from it.

Coming into the autumn and winter season in the Southern Hemisphere, The Very Secret Society of Irregular Witches will be the perfect book to curl up with in front of a fire while drinking a mug of hot chocolate, as it is set during this time.
I have a habit of trying to borrow a book from our local library first, and if that isn't possible, to buy an ebook copy of a novel. Only if I absolutely have fallen in love with a book, and know that I will reread the novel over and over, will I then go and spend more money on buying a paperback copy of a book. I loved The Very Secret Society of Irregular Witches so much, that I bought a paperback copy of my very own. I hope to reread it soon, when we go on holiday, so I can enjoy the book again during autumn.

Have a wonderful day,
Julie-Ann
Want to discuss my post? Feel free to chat with me on Instagram or Mastodon.