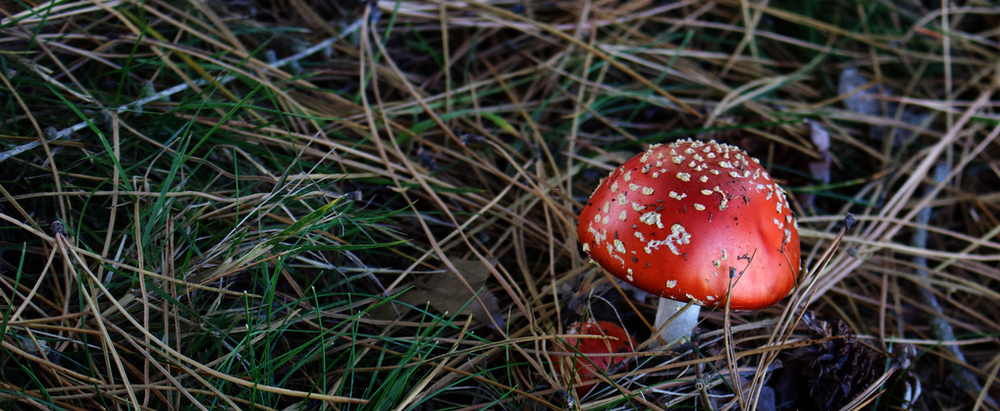 Tuesday, October 24, 2023
Hello friends,
Today I'm going to share with you Grandad Bob's Christmas cake recipe, which is a big favorite among our family and friends. Each Labour Weekend in October when I was a child, I used to go over to his home and help him plant out his vege garden, and then after that assist him in making the Christmas Cake. His house would smell amazing as it baked, and he'd spoil me with all sorts of treats as we waited for the cake to be ready.
When hubby and I got married, he made this cake for our wedding cake, so it's a really special recipe for us. Before Grandad Bob passed away he passed his recipe onto me, and now each year hubby and I make his Christmas cake, and then on Christmas day we cut up the large cake into many pieces for all the family to take home with them.
Please feel free to try making Grandad Bob's Christmas cake yourself.
Ingredients: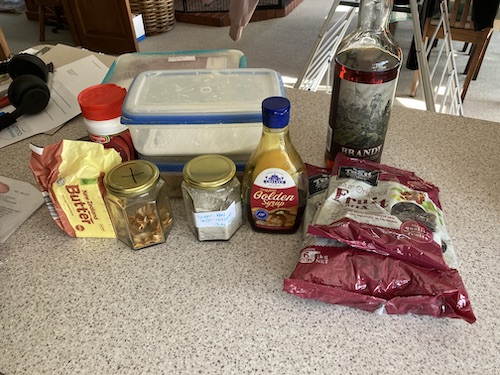 2 Cups of Water
2 Cups of Brown Sugar (We used some of our own sugarbeet sugar that we made this year.)
225 grams of Butter
1 Teaspoon Mixed Spice
1 Teaspoon of Baking Soda
1 - 2 kg of Mixed Fruit
2 Tablespoons of Citrus Peel (I make some from our citrus peel)
1 Tablespoon of Golden Syrup
1/2 Cup of Brandy
2 Eggs
3 Cups of Flour
2 Teaspoons of Baking Powder
1/2 Teaspoon of Salt
2 Tablespoons of Apricot Jam
2 Tablespoons of Boiling Water to dilute the apricot jam
750 grams Premade Almond Icing
750 grams Premade Royal Icing
Instructions:
1. Place water, brown sugar, butter, mixed spices, baking soda, mixed fruit, citrus peel, and golden syrup into a sauce pan and heat slowly.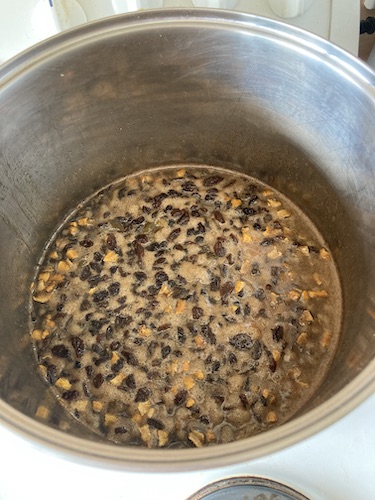 2. Stir occasionally until the butter melts, and then increase the heat and bring to the boil. Boil the mixture for 3 minutes. Cool to room temperature (we place the pot in a sink of cold water to help cool the mixture faster).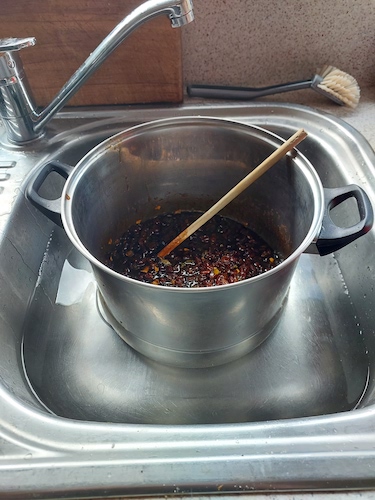 3. Beat eggs lightly, and then add to the fruit mixture, along with the brandy, and mix well.

4. In a separate bowl sift flour, baking powder and salt. Fold the flour, baking powder and salt into the fruit mixture until mixed well.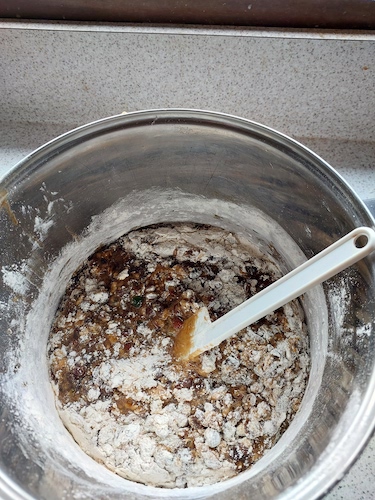 5. Place cake batter into a greased and lined 23 cm square cake tin.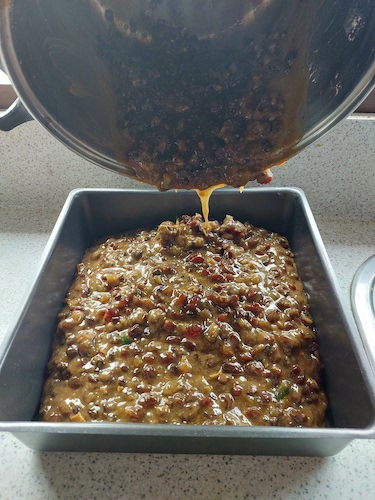 6. Bake in an oven at 150˚C for around 1.5 hours, or until a skewer comes out clean when testing the cake.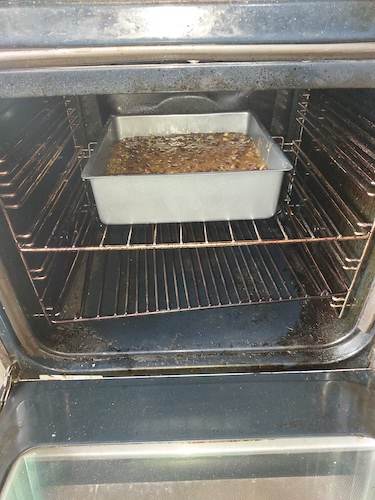 7. Allow the cake to cool, and then remove from the cake tin.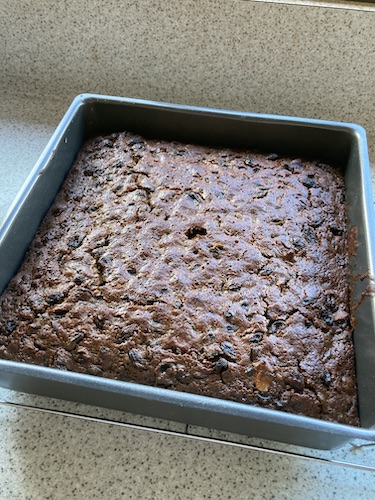 8. Flip the cake over so that the bottom dries out. Then store the cake in a sealed container in a cool, dark place until a week before Christmas.
9. Dilute 2 tablespoons of apricot jam with 2 tablespoons of boiling water, and mix into a thin paste. Brush half over the cake.
10. Roll out 750 grams pre-made almond icing, enough to fit over the cake, cut off any excess. Place over the top and press down lightly so it sticks to the apricot jam.

11. Repeat this process with the royal icing, using the other half of the apricot jam mixture between the two layers.
11. Store the iced cake in a dark, cool place until Christmas Day. Decorate, and enjoy.
I hope you enjoy Grandad Bob's Christmas Cake, if you decide to make it. Do you have any family baking traditions? I'd be keen to know.
Have a wonderful day
Julie-Ann
Want to discuss my post? Feel free to chat with me on Instagram or Mastodon.