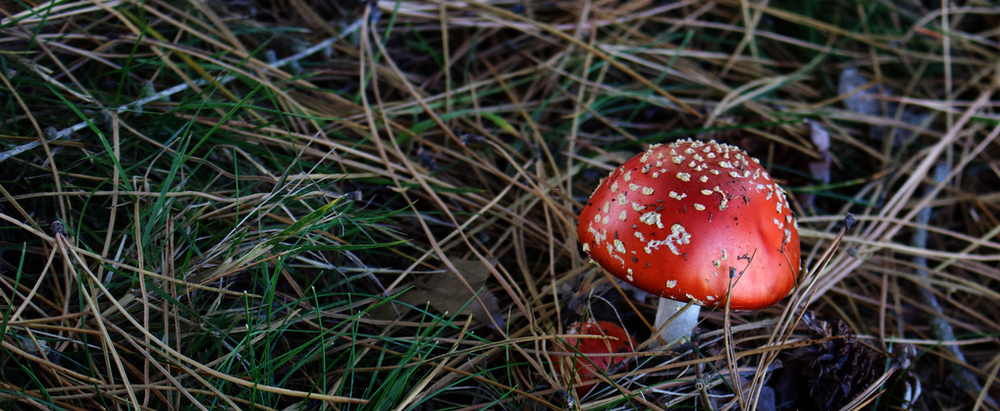 Thursday, August 10, 2023
Hello friends,
We're now into the last month of winter, and it's finally time to start sowing seed for spring. It's a tricky time of the year, as it's possible to get snow here in Dunedin even into the first week of October, so there's nothing worse than sowing seeds too early, and then having to try and keep them alive if there's a late frost or snow in early October. Last year we had snow laying on the ground the first week of October, and a couple of frosts the weeks after that, so it was a stressful time trying to keep all my seedlings alive, looking after my growing potato plants, as well as my new dahlias which had just popped out of the ground. Seedlings don't get transferred outside and into the vegetable garden until Labour Weekend, which is the third weekend of October, so that's a long way off right now.
I have a specific order in which to germinate seeds, so that I don't have too many plants sitting in the glasshouse for such a long period of time. The first seeds sown are my tomato plants. I grow enough plants for our own needs, but also for family members as well. I usually have at least 12 plants growing in our glasshouse, and poke any others that are spare in free space I have in the vegetable garden. We eat a lot of tomatoes fresh throughout the summer, but the bulk of it is frozen away for using in autumn and winter cooking.
This year I'm growing the following tomato varieties:
Franchi Sementi Pomodoro Red Cherry - A red cocktail tomato with great taste. This is no longer for sale in New Zealand, I save this seed every year.
Kings Honeybee F1 - I haven't tried this one before, I wanted to try another cocktail tomato, we'll see how this goes. One of my sister's grows her tomatoes outside, and it's far easier to ripen smaller tomatoes in Dunedin's short summers.
Kings Tomato Juane Flamme - Our favorite tomato, an orange tomato with the best taste of any tomato I've ever grown.
Tomato Grosse Lisse - A beefsteak tomato that was a favorite of my grandfather. The best tomato for putting a slice on a hot piece of toast, and eating it with a pinch of salt on top.
Tomato Island Bay Italian - I haven't grown this tomato variety before, but I've heard good things about it. Good for eating fresh and processing apparently.
Tomato Lebanese - Also a new tomato variety this year, I'm hoping it will have good disease resistance, and tastes good too.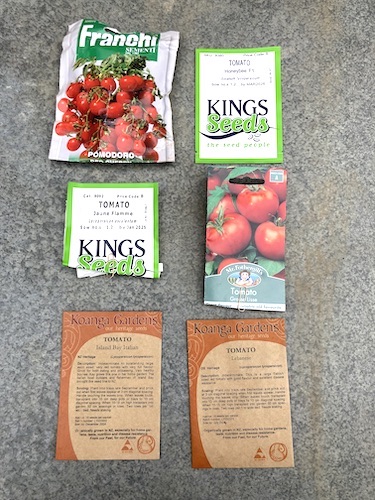 The next seeds to be germinated are my chilli and capsicums plants. I've successfully grown chillies in our greenhouse, but I haven't had any luck with the big traditional bell pepper capsicums.
This year I'll be growing the following chillies and peppers:
Chilli Serrano - I had a huge crop of chilli last season, so I'm growing this variety again.
Alma Paprika Pepper - Trying once again to grow my own paprika. Last season they didn't grow as well as I hoped, am trying again for the last time.
Capsicum Marconi Red - A prolific sweet Italian variety. I'm hoping that it's narrow shape will mean it ripens faster.
Capsicum Orange Sun - My last attempt at growing a bell pepper variety.
Capsicum Red Bell F1 - Also another last attempt at successfully growing a bell pepper variety.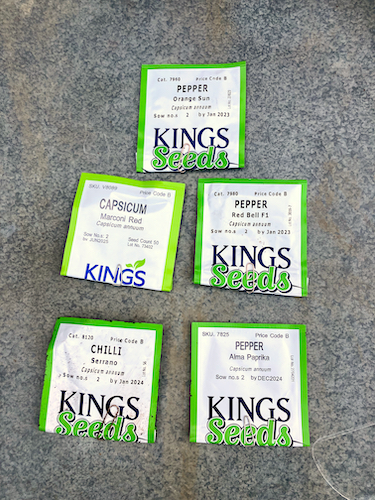 The tomato and chilli seeds were sown into two mini greenhouses, and placed in a warm sunny spot in our dining room. It's warm in there on sunny days, and also thanks to the benefit of our wood burner being in that room, they're kept warm in there every night in winter. I'm eagerly waiting for the seeds to germinate.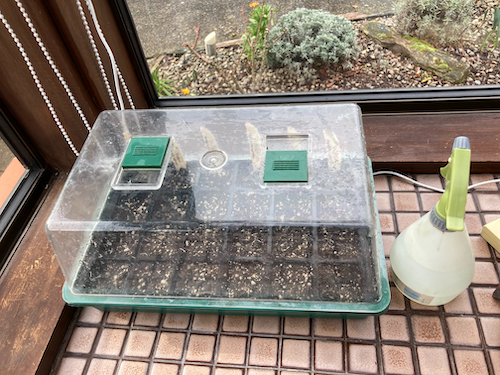 The next seeds to be sown are all my sweet pea varieties. I've collected quite a lot of Keith Hammett varieties over the years, he's a New Zealand breeder who produces the most stunning sweet peas. Sweet peas germinate in cool temperatures, so they are now potted up and put into the glasshouse.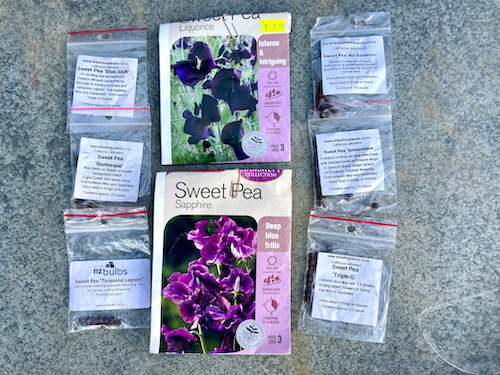 The last of the seeds to be sown for now are the herbs coriander and dill. Coriander prefers to grow in cool temperatures, otherwise they will bolt, so I sow one lot in late winter, and another in early autumn. They don't like to have their roots disturbed while planting into the ground, so I sow a bunch of seeds into a biggish pot, and then when it's time to transfer them into the herb garden, I plant the whole container worth in one spot, I don't separate out the seedlings at all. For the dill seeds I do the same thing as with the coriander, it ensures I get a relatively big crop of leaves without the problem of using up a lot space.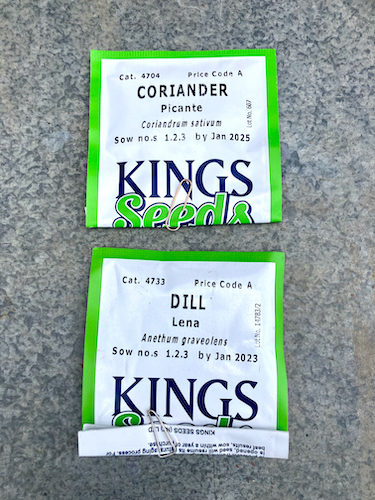 The sweet peas, coriander, and dill are all now sitting in my glasshouse. We're were expecting snow down to 200 m last night, so I've put off doing any more seed sowing tomorrow. Hopefully soon they will be joined by a lot more seeds as the month goes on.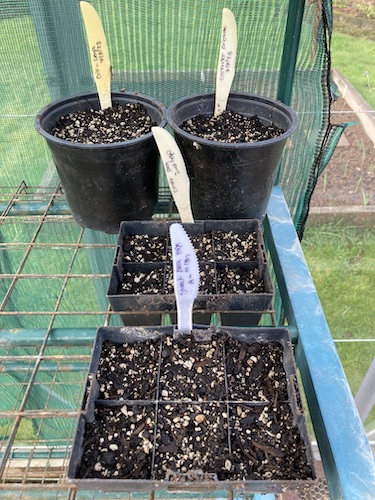 Have you started seed sowing yet? I'm interested in what choices you've made for the coming growing season.

Have a wonderful day
Julie-Ann
Want to discuss my post? Feel free to chat with me on Instagram or Mastodon.