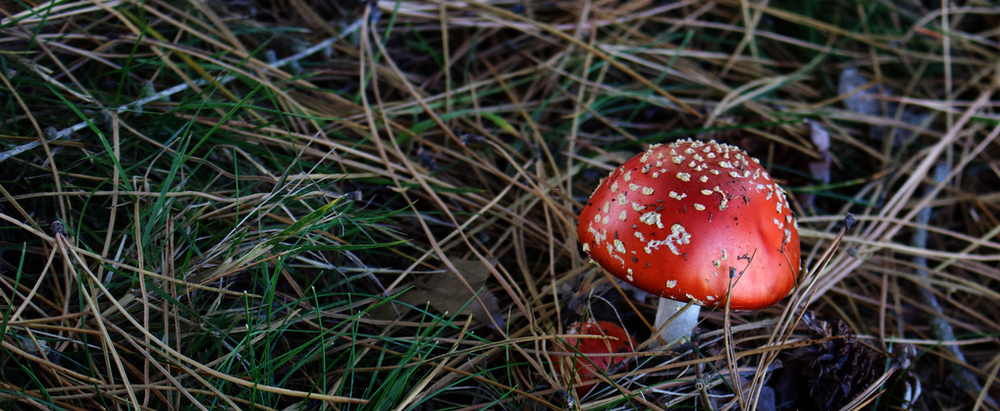 Thursday, November 9, 2023
Hello friends,

Over Labour Weekend in October hubby and I planted our vegetable garden for the summer.
My first task was to weed the garlic growing in the smallest vegetable garden bed, and then also sow onions, carrots, beetroot, radish, sugarbeet and carrot seeds as well.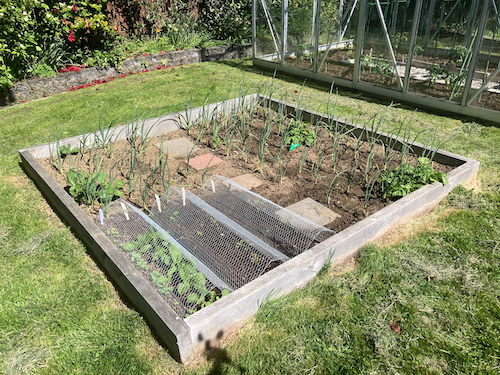 Hubby then dug over the two remaining large garden beds, and I added sheep pallet fertilizer for the soon to be growing plants.
For the next bed, which was already growing peas and potato plants by now, I added lettuce, rocket, black turtle beans, summer sprouting broccoli, and cabbage, that I had been growing in the glasshouse.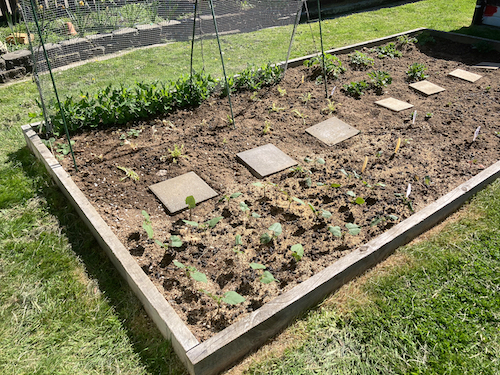 With the last large garden bed I planted maize, corn, and pumpkin plants in the top half. In the bottom half of the garden bed I sowed wheat and linen flax seeds, while hubby acted as a scarecrow to keep the birds off them, and then we double bird netted the seeds to protect them from the birds.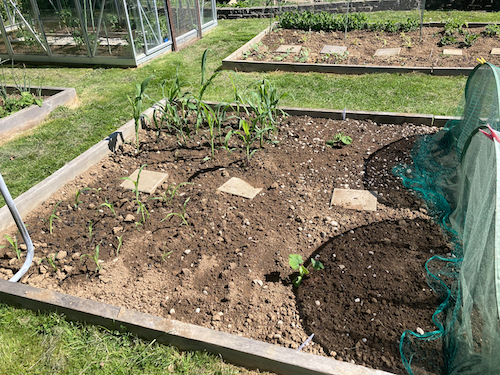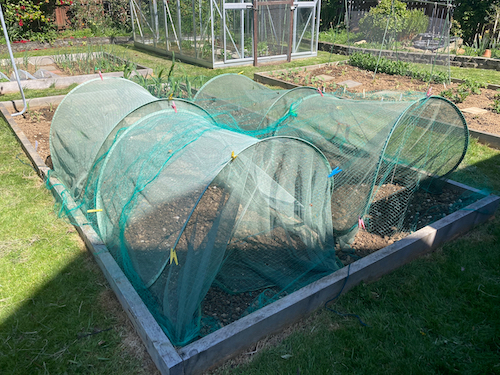 With most of the glasshouse now empty of plants, we emptied out the space, and hubby dug over the garden bed. After that there was just the task of fertilising the soil, and then planting cucumbers, basil, chillies, capsicum and many tomato plants. There was also the big task of setting up all the climbing frames for the growing plants.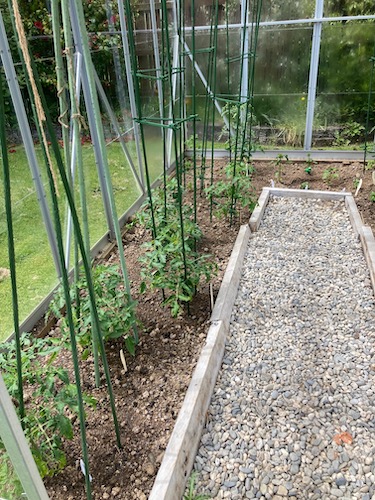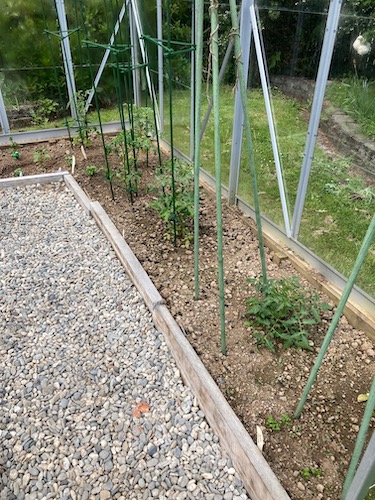 It's been a few weeks now, and everything is growing nicely in the garden, despite low snow falling the week after we planted everything. I can't wait to feast on all our vegetables over the coming summer.

Have a wonderful day
Julie-Ann
Want to discuss my post? Feel free to chat with me on Instagram or Mastodon.
Thursday, October 5, 2023
Hello friends,

During last year's growing season I had a Serrano chilli plant growing in our glasshouse, and over summer it gave me an abundant harvest of both green and red chillies. I picked so many chillies that I had no idea what to do with them all. I gave away as many as I could, and then with the rest I decided to dry them. We mainly use chillies as dried chilli powder in the kitchen throughout the year, so this method to prepare them was the best way to use all the left over chillies.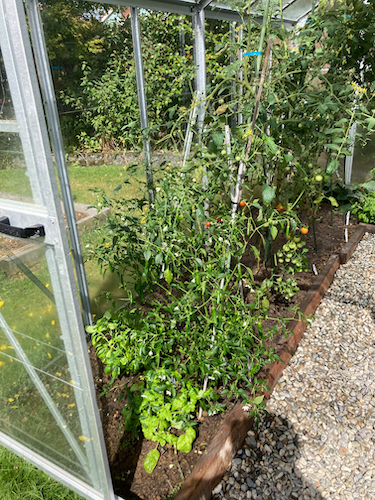 I waited until I had a big chlli harvest (some had already started drying out whole), and I cut off all the tops off before splitting them down the middle and removing the seeds (while wearing gloves). I then dried them in our dehydrator on trays at a temperature of 50˚C.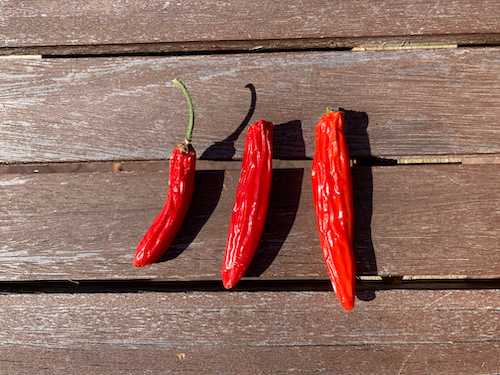 The smell was quite pungent, so initially the dehydrator was sitting outside under our veranda for the day, and then in the garage after that.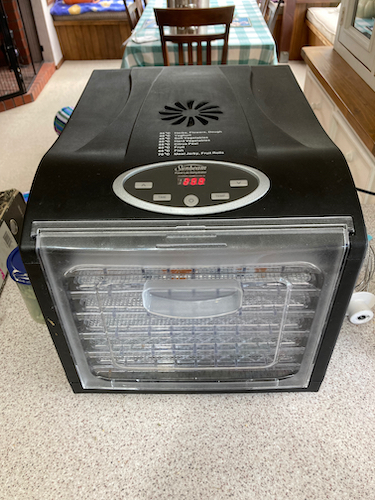 Once the chillies were dry, they were stored whole in a plastic container until it was time to grind them.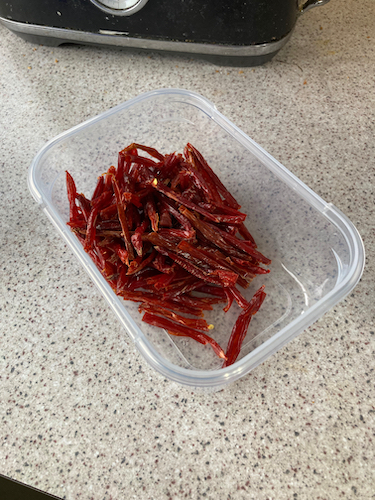 Last week, I finally got around to actually grinding them in our coffee and spice grinder. So as not to stink out the house with powdered chilli, I placed the grinder under the rangehood with it turned on.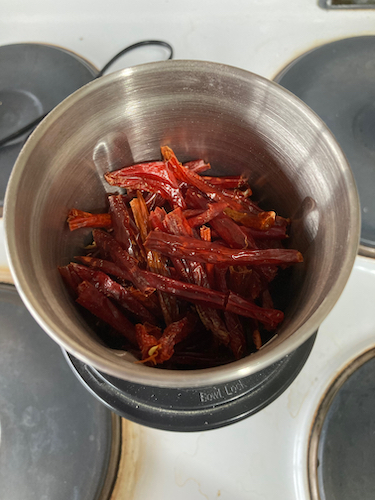 It didn't take very long to turn the chilli into powder. It didn't make as much as I thought it would, so I think that this year I won't give as much away, so we'll have more chilli powder for ourselves.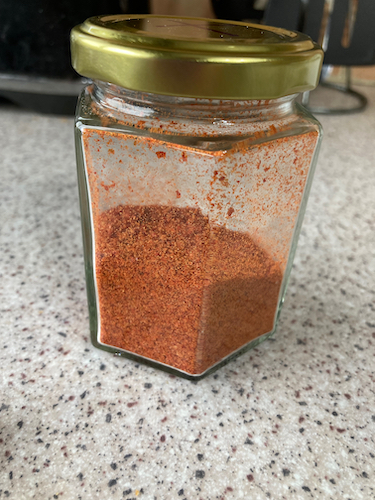 And we've already used our new chilli powder in a meal, we made chilli con carne that very night. It wasn't too spicy, but it had a really great flavor that we liked. I'm definitely happy to make even more chilli powder this coming growing season.

Have a wonderful day
Julie-Ann
Want to discuss my post? Feel free to chat with me on Instagram or Mastodon.
Monday, September 4, 2023
Hello friends,
It's been another busy week in the garden, with warm and mild weather to welcome the start of spring.
I had to repot my chilli, capsicum and tomato seedlings in the last week, as they'd gotten too big for their plastic small glasshouses in the dining room. They're now happily situated in their now bigger pots with potting mix in the glasshouse, and are sitting in a frame which is wrapped up with multiple layers of frost cloth each night. If there's even a hint of bad frosts or snow, they'll be back inside the house in our spare bedroom until the bad weather passes.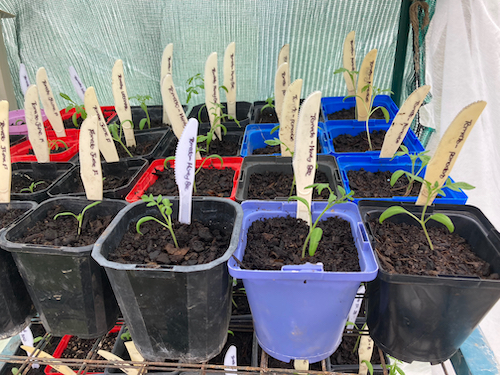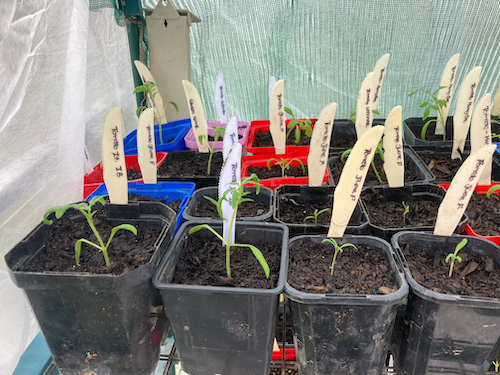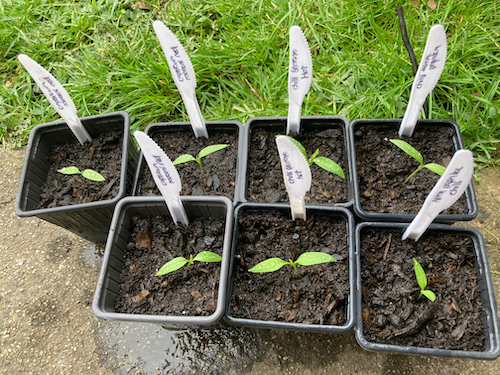 Seed sowing is still underway, and will continue through spring.
Vege seeds sown this week:
Pumpkin Crown Prince F1
Pumpkin Musquee De Provence
Pumpkin Baby Bear
Pumpkin Marina Di Chioggia
Maize Manaia
Herbs sown this week:
Chamomile Roman
Chamomile German
Catnip
Soapwort
Marshmallow
Flowers sown this week:
Eupatorium Hemp Agrimony
Gypsophila Snowflakes
Gypsophila Deep Carmine
Yarrow Summer Pastels
Valerian officinalis
There's so much more seed to sow, and things to do in the garden, but work is also busy right now in the lead up to the Christmas season, with me preparing eco textile products for inclusion in the online craft artisan website Felt gift guide. I hope I can balance the two between now and Christmas.
Have a wonderful day
Julie-Ann
Want to discuss my post? Feel free to chat with me on Instagram or Mastodon.