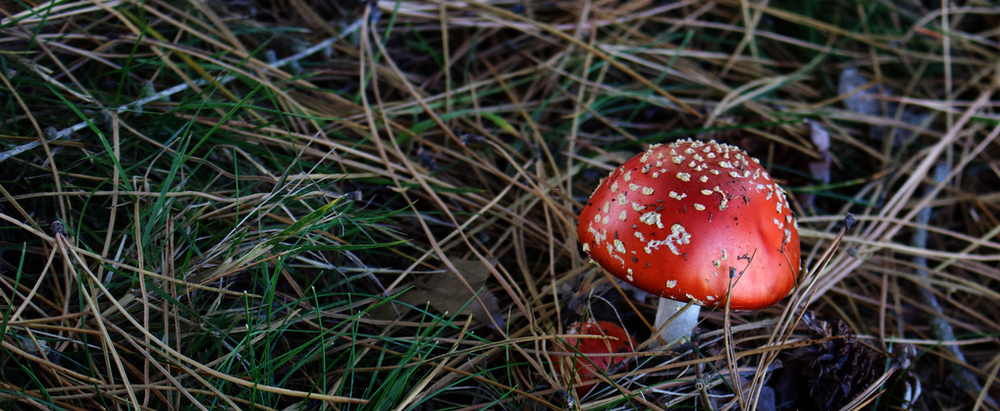 Thursday, November 23, 2023
Hello friends,
When I was growing up I learned to play the recorder and flute through a local music school, and had lessons for them both for a number of years. The reason why I played the recorder was to learn music, so that I could get into the flute classes later on. As a child I very much looked up to the cool flute players that played in our music school's orchestra. And then there was the flute itself, how can you resist how shiny, and beautiful sounding it was. After a couple of years learning the flute, I finally joined the schools orchestra, and became one of those cool flute players I admired a couple of years earlier.
I had to give up playing the flute when I was a teenager (my parents couldn't afford to buy me my own flute or further lessons), but always remembered playing it fondly as an adult. A couple of years ago I bought my own flute, and began music lessons again, in the same music school I had as a child. I rejoined orchestra, and thoroughly enjoyed it.

But by this time as an adult I had many allergies, chronic sinusitis and many sinus infections. It got to a point that I was sick so much with these issues, that I couldn't play the flute as much as I needed to to stay in lessons and the orchestra.
I was feeling down about having to give up playing the flute, and mentioned to hubby that as a child I had also wished to learn to play the harp, but that was way out of my parents league money wise. And in Christmas 2021 there was a very special large surprise under the Christmas tree, hubby had bought me a lap harp so I could finally get a chance to learn to play the harp. It was a Dusty Strings Ravenna 26 lap harp, with full sharpening levers.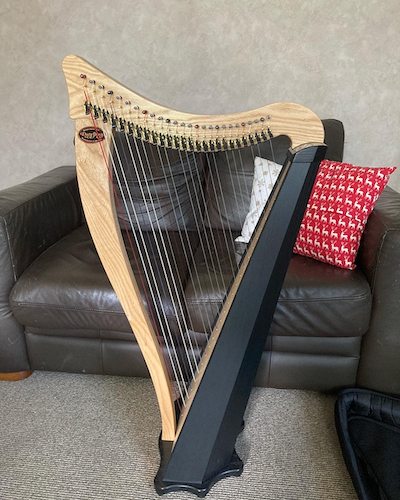 I was so happy, and I enthusiastically began learning the harp by myself using the book series by Pamela Bruner. But it got to a point where I struggled to make any more progress by myself, so I began taking online harp lessons in October 2022, with a very wonderful New Zealand harp teacher.
I progressed quickly, and soon outgrew my little lap harp. I couldn't afford to buy a bigger brand new 34 string harp, so I waited for months and months on Trade Me for a second hand harp to come up for auction that I could afford, and that was in driving range within the South Island of New Zealand. In May 2023 a Dusty Strings Ravenna 34 harp finally came up for sale, and luckily I won the auction. The next weekend hubby jumped on a plane to Christchurch, got a hire car, and picked up my new harp, and drove it home. It barely fit in the backseat of the hire car that hubby hired.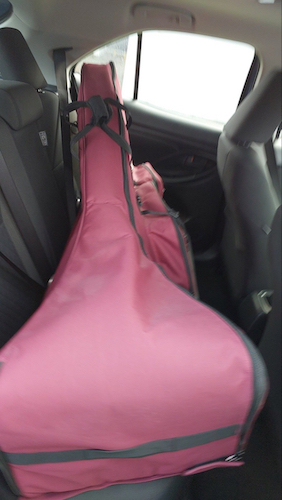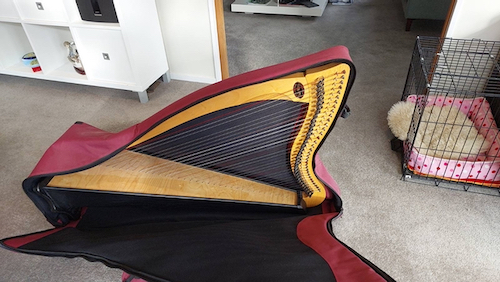 Once hubby and the harp had arrived home, I gave her a good clean, and tuned her up to Eb major. She sounded amazing, but in the future will need to be serviced and regulated. Unfortunately, there is only one harp technician in the South Island, and he only visits Dunedin once a year, and won't return to Dunedin until 2024.
I've continued to learn and improve on my new harp, and today I thought I'd share with you one of the Pamela Bruner pieces I learnt before I started lessons last year. The piece is called Early Waltz, and the composer is Pamela Bruner. My teacher has been encouraging me to perform pieces that I've learnt, so this was my first attempt.
I hope you enjoyed it.

Have a wonderful day.
Julie-Ann
Want to discuss my post? Feel free to chat with me on Instagram or Mastodon.