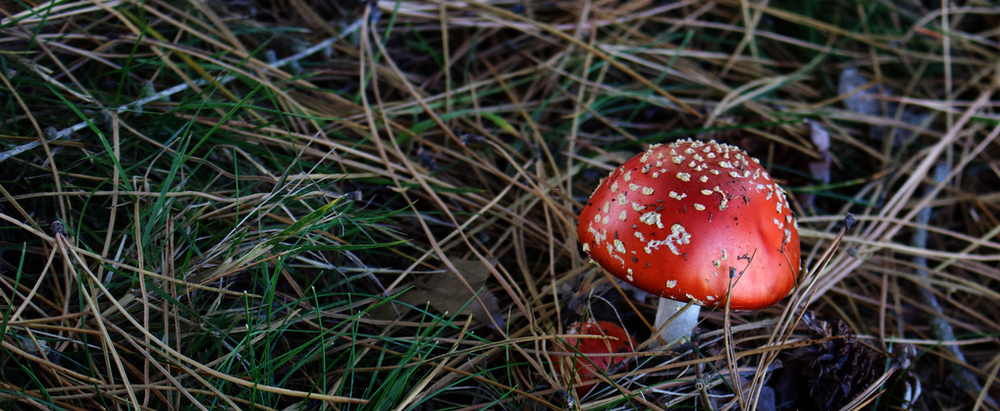 Thursday, September 14, 2023
Hello friends,
I finally started planting out my potato tubers for the spring growing season. I meant to do it a couple of weeks ago, but more urgent gardening tasks got in the way. Every year I grow four different varieties of potatoes in the garden, and each variety we use for different reasons.
The first potato variety I grow is Rocket, it's a 1st early potato which only takes 60 - 70 days to maturity. I like planting these in early to mid-September as it means they will be the first potatoes to be ready to eat in mid-November for boiling and roasting. The second variety of potato I grow is Jersey Bennes which is a 1st early potato that reaches maturity in 80 - 90 days. When planted at this time of the year the potatoes will be ready to eat in time for Christmas, and we eat them boiled and also in potato salads.
The other two varieties of potato I grow are Ilam Hardy and Haylo, but they won't be planted until October. Ilam Hardy is a 2nd early/main potato that takes 70 - 80 days to maturity, and is great for mashing, baking, roasting, chips, and wedges. We mainly use this potato for turning into gnocchi, and also in potato and leek soup. The last variety of potato I grow is Haylo, which is an improved variety from the Agria variety potato. It is in my opinion the best roasting potato, and we in fact did an experiment one year to test this. I grew Ilam Hardy, Agria, and Haylo one year, and compared roasting them using hubby's double cooking method for making roast potatoes. Haylo was by far the best tasting roasted potato variety. Haylo is a 2nd early/main potato, and matures in 80 - 90 days.
With these four varieties of potato growing in the garden, we are self sufficient in eating potatoes pretty much throughout the year in various forms, thanks to storing gnochhi and potato and leek soup away in our chest freezer.
I began chitting both the Rocket and Jersey Bennes potato varieties back at the beginning of August, and it wasn't long at all before they started growing, and by the time it was actually time to plant them, they'd unfortunately gotten too big. A disappointment for sure, but they were still fine to plant into the ground, I did so very carefully, taking care not to break any growing shoots.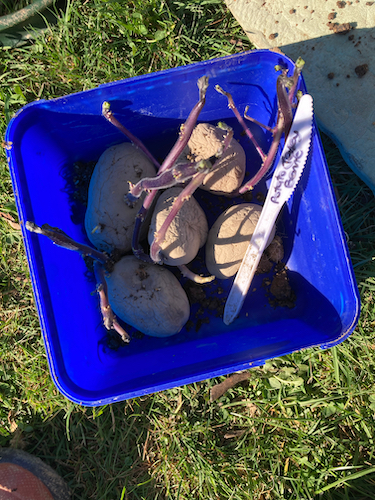 After digging two trenches in an area of the vegetable garden, I sowed five of each of the Rocket and Jersey Benne tubers into the ground. I always plant them in order from right to left, with the Rocket on the far right, then the Jersey Bennes to the left of them. Experience has taught me that the Rocket variety will indeed rocket up and produce a copious amount of leaves which will smother any other growing potato plant varieties, and block them from sunlight given half a chance. If I do it this way, any new rows of potatoes will get morning sun preferentially to the rocket potatoes.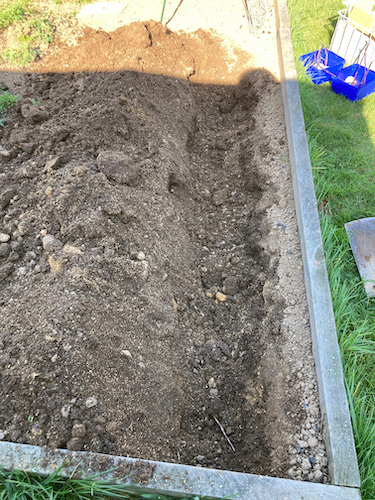 It didn't take very long to plant those potato varieties, and then gently cover them over with soil. For the next few weeks as they grow up they'll be safe from any late frosts, and once they're above ground, I'll cover them with frost cloth every night until the last frost has passed.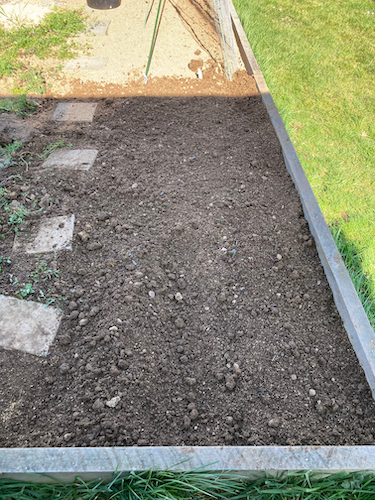 In a couple of weeks it'll be time to plant the Ilam Hardy and Haylo potato varieties, but before that can be done, I need to transplant some dye plants I have in that part of the vege garden. But before that can be done, I have to prepare another area of the garden for the dye plants to move into...
It's pretty much a big juggling job in the garden right now, with the most urgent tasks being done first, even though they may not be the tasks I want to do. And I'm now behind in seed sowing as well, but I will get there I'm sure. The next rainy day in the garden will be a huge seed sowing session, and my aim will be to sow everything else that needs to be sown.
Have a wonderful day
Julie-Ann
Want to discuss my post? Feel free to chat with me on Instagram or Mastodon.